Call Us Now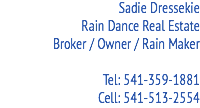 Eugene Area Real Estate Market Data
Rain Dance Real Estate's Market Data display is a graph of the real estate market in the Eugene area. The charts are created from our analysis of listing data over a period of one year.
The analyzed information is saved in our database. This information, and our current charts and displays, are updated each month.
Please contact us, we're here to help.
We're here to assist with all of your local real estate needs.
SPEAK WITH REALTOR SADIE DRESSEKIE