Call Us Now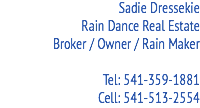 Contact Rain Dance Real Estate
Are you buying or selling property in Eugene? Sadie Dressekie would like to be your real estate broker. Contact her by phone, email, or simply, by completing the form below. Once you've submitted the form, you can expect to hear from Sadie within 12 hours (usually much less).
541-359-1881
541-513-2554
sadie@raindancerealestate.com
Rain Dance Real Estate
1512 Coburg Rd
Eugene, Oregon 97401
We're here to assist with all of your local real estate needs.
SPEAK WITH REALTOR SADIE DRESSEKIE